As I was preparing to share the ideas for Aleni's party, I realized I'd never shared about the UP themed party we did last year for Aleni and Noah! Again, I am posting this because google-ing ideas for this party was SO helpful to me, and I hope that it may help someone as desperate as I was for ideas. ;)
I feel bad that I didn't take as many "before" pictures as I should have... but, the ones I do have are great
(thanks to my lovely and talented sis-in-law).
..
I made the invites by printing off a picture of the UP house. I cut it out and pasted in onto the brown card stock I was using for the invites. On the inside, I put:

"Noah and Aleni are growing UP so fast!
Will you come out and play?
Help us celebrate these fabulous two
We got the tablecloths in the colors featured in the balloon bunch: lime, orange, red, blue, purple.
We also got a helium machine and blew up I think about 150 balloons. Way too much work--probably would have just bought them already blown up if I had to do it again.
We also printed off a bunch of pictures and cute/funny sayings from the movie that I scattered around on the different tables... like these:
"
You
can
take
me
there
in
a
blimp
!"
"My
name
is
Dug
. I
have
just
met
you
and I
love
you
."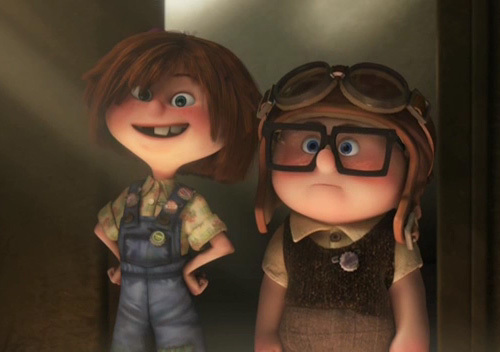 "
You
and me…
we're
in a club
now
."
"You don't talk much. I like you."
" I
was
hiding
under
your
porch
because
I
love
you
."
"You know where South America is? It's like America. But it's south!"
It's not technically "decorations".... but, I did download some of my favorite tracks from the UP soundtrack and had it playing during the party. Really helped "set the scene" for the party!
Our neighbors let us borrow their Little Tykes outdoor plastic playhouse. I attached a bunch of balloons to the roof to look like the UP house... and the kids had fun playing in it throughout the party.
(The balloons had been dispersed between the party-goers by the time this photo was taken!) ;)
We put up a banner that read: "ADVENTURE AWAITS "
ACTIVITIES:
Coloring Sheets:
I found a bunch of UP coloring sheets online and had them printed out and at a "coloring table" along with crayons.
Bubble Station:
I filled a beverage dispenser with bubble solution and had little cups nearby as well as a bunch of bubble wands. Kids could fill the cups with bubble solution and blow bubbles as much as they liked.
Balls:
I purchased a bunch of those $1 soft balls in the colors of the balloons and just had them scattered around for the kids to play with during "down times".
Snipe Hunt!
If you don't remember, Kevin the Snipe was the large colorful bird in the movie that the little boy was hunting for. So, just like a scavenger hunt--we set up a snipe hunt. Weeks before the party, I went around the site of the party--the park/playground and snapped pictures. Then, I printed out the pictures and they became the clues for where to go next (the swing, the bridge, the water fountain, etc). On the back of each picture, I attached a "snipe footprint" to make it more fun.
In the end, the kiddos found a picture of the snipe and a foam ball of suckers (supposed to look like a bunch of balloons). The suckers were the prize that each child was able to take.
Musical Hoops
Wanting to stick to games that "no one looses"... we did Musical Hoops. You start off with 4 hula hoops, and when the music stops, everyone has to step inside a hoop. Then, a hoop is removed and the music plays again... this happens until you are down to one hoop and everyone has to fit inside that one hoop. It was fun to use the hula hoops, since they also seemed to go along with the "balloon" them.
Memory Game
I put about 10-15 small items on a tray. I would let the kids study the item for about 20 seconds. Then, I would cover it with a towel, remove one item, and then uncover the tray and see if they could guess which item I removed. Then, I would remove 2 items... 3 items.... 4 items....5 items. It was a fun stretch for their memories!
Pinata
No party is complete without the pinata! :)
Since the party was at a park, we just did a picnic-type lunch: hot dogs, chips, soda/juice.
We had cupcakes. The cupcakes were white and featured what was supposed to look like a bunch of balloons floating above them (donut holes, frosted and rolled in sprinkles). Mmmm... it was semi-successful. WAY too much work for this momma! I should've bought the cupcakes already made--or done something else! ;)
I loved the idea of sending everyone home with the Ellie badges... Rey had the great idea of checking in at the Mexican grocery store in town--since they sell a lot of sodas in glass bottles. They kindly agreed to save bottle tops for us... and a couple weeks later.... we picked up well over 100 bottle tops! Rey drilled holes in them, and I put in large safety pins. It was definitely a favorite at the party! :)
We pu

t up a sign that said:
Please take one, '
cuz
now you're a member of our adventure club! –N & A
Bubble Gum Favors
I loved these favors when I saw them.... all the colors and shapes just went so well with our theme!
The jars are from baby food jars, that friends saved for us. I spray painted the lids, and Rey drilled the holes in them. Then, I stuck the suckers in the tops and wrapped little notes around the sticks: "Thanks for the adventure...now go have one of your own!"
(A quote from the note Ellie wrote to Carl).
I had originally thought I would fill the jars with jellybeans, but soon discovered it was cheaper to go with the gumballs.
OTHER FUN TIDBITS:
Gifts ---> Paradise Falls Jar
Knowing it can be hard guessing what gifts to buy for a 2 and 4 year-old... we decided to give the option to our guests of just putting in donations to Aleni and Noah's "Paradise Falls Jar".... which would be used for
fun all summer long!
I just purchased a plastic water jar, taped "Paradise Falls" onto it and set it on the table.
Noah & Aleni's Mailbox
We put up a sign that said:
We love getting mail… so if you have any for us, here's where it goes! –N & A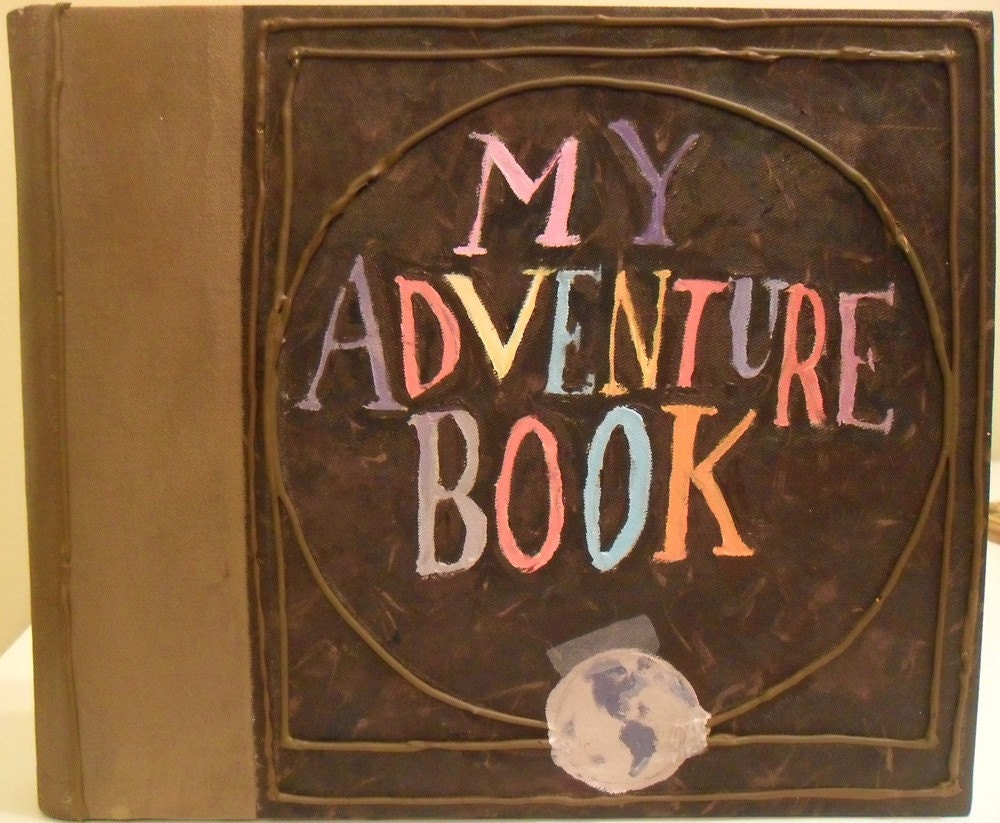 Noah & Aleni's Adventure Book
We borrowed another of Carl and Ellie's ideas... an

Adventure book! :) We put up a sign that said:
Would you take a few minutes and write down some ideas for fun times? What do you recommend? A special game? A place we've got to see? Whatever it is, we'd love to know! –
N & A
Whew! Now I see why I waited so long to post this! Haha... again, hope these ideas can inspire you! :)